Jura E8 Piano White (NAA)
Item is in stock
Hurry! Low inventory
Item is out of stock
Item is unavailable
Jura E8 15422 Piano White
E8
The perfect combination of pleasure, versatility, and luxury
The latest generation of JURA's most successful coffee machine model boasts a reinterpreted design and a range of benefits previously found only in the premium class.
The Professional Aroma Grinder delivers a flawless grinding result, state-of-the-art brewing processes allow the coffee aromas to fully develop and trend specialties are better than ever thanks to the airy, feather-light milk foam. The innovative E8 offers 17 different specialties – from an aromatic espresso to a trendy cortado. It can also prepare long, mild specialties such as caffè Barista and Americano to professional barista standard thanks to a new fluid system. Those who like their coffee more intense can pep up their cappuccino, flat white or latte macchiato using the Extra Shot function.
With the optimized fluid system, even milk system cleaning is carried out automatically at the touch of a button – another E8 function that will be familiar from JURA's top-line products. What's more, it now boasts even more intuitive handling along with incredibly easy operation.
---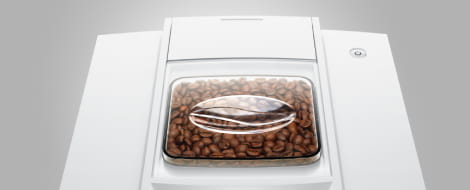 First-class coffee quality
The Professional Aroma Grinder guarantees 12.2%* more aroma and consistently high grind quality so that flavors unfold to perfection throughout the entire service life of the grinder. The Pulse Extraction Process (P.E.P.®) ensures maximum flavor for short specialties, while intelligent preheating guarantees the ideal temperature right from the first cup.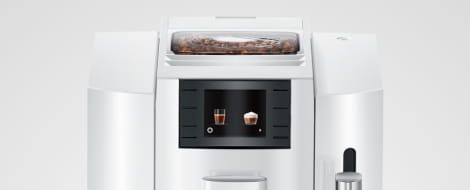 Luxurious operation
A 2.8" color display, six buttons, and a completely new operating concept featuring artificial intelligence enable simple handling. An intelligent algorithm identifies individual preferences and adapts the start screen so the user's two or four favorite specialties are always displayed. Product settings and their positions on the screen can be adapted in line with personal preferences and product names can be displayed or hidden. All relevant information regarding the coffee machine as well as pending care instructions are presented clearly in the Cockpit via the display.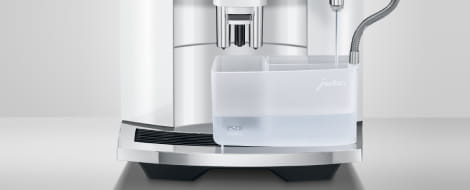 One-touch milk system cleaning
The sophisticated milk system cleaning process takes place automatically at the touch of a button and is completed in no time. The drip tray also meets the highest ergonomic standards. Its design prevents water from spilling and it can be removed conveniently with just one hand.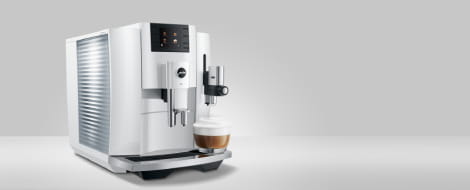 Harmonious design
JURA coffee machines feature a clean and expressive characteristic design. High-quality materials and precise craftsmanship underline the premium quality of the modern E8. Its styling alone is evidence of its quality, functionality, and durability. Details such as the grooved water tank or the high-quality, chrome-plated cup grille perfectly complement the clean, harmonious design of the E8.
Specialities

Products

Espresso
2 x Espresso
Coffee
2 x Coffee
Cappuccino
Cappuccino Extra Shot
Caffè Barista
Americano
Espresso doppio
Macchiato
Cortado
Latte macchiato
Latte macchiato Extra Shot
Flat white
Flat White Extra Shot
Portion of milk foam
Hot water

Number of speciality coffees

17
Specific advantages

| | |
| --- | --- |
| Intelligent preheating | Yes |
| Smart mode | Yes |
| Transmitter supplied as standard | - |
JURA standards

| | |
| --- | --- |
| Pulse Extraction Process (P.E.P.®) | Yes |
| One-Touch Lungo function | Yes |
| One-Touch function | Yes |
| Grinder | Professional Aroma Grinder |
| High-performance pump, 15 bar | 1 |
| Thermoblock heating system | 1 |
| Fluid systems | 1 |
| Milk system / interchangeable milk spout | HP3 |
| Powder chute for ground coffee | Yes |
| Aroma preservation cover | Yes |
Operating and programming standards

| | |
| --- | --- |
| Compatible with J.O.E.® | Yes |
| Display | 2.8'' color display |
| Programmable and individually adjustable amount of water | Yes |
| Programmable and individually adjustable coffee strength (Levels) | 10 |
| Programmable brewing temperature (Levels) | 3 |
| Programmable temperature of hot water (Levels) | 3 |
Design and materials

| | |
| --- | --- |
| Amber / white cup illumination | Yes |
In figures

| | |
| --- | --- |
| Height-adjustable coffee spout | 2.6 - 4.4 inches |
| Height-adjustable cappuccino spout | 4.2 - 6 inches |
| Height-adjustable hot water spout | 2.6 - 4.4 inches |
| Water tank capacity | 63.6 oz |
| Bean container holding capacity | 9.9 oz |
| Coffee grounds container (approx. servings) | 16 |
| Cable length (approx.) | 3.6 feet |
| Voltage / Power | 120 V~ / 1450 W |
| Ampacity | 10 amp |
| Stand-by power | 0 Watt |
| Weight | 21.2 lbs |
| Article Number | 15422 |
| Width | 11 inches |
| Height | 13.8 inches |
| Depth | 17.6 inches |
Frequently Asked Questions
Domestic shipping can take up to 5 business days.

Foreign shipping could take up to 14 business days.

Due to global supply chain challenges, shipping times could be longer than usual.

All our products are subject to quality control.

Our warranty provides a guarantee against manufacturer defects.

The guarantee covers any manufacturing, design, or material defect. Please notify us within 2 months of noticing any defects.

It does not cover blows, improper use, or other issues that are not attributable to a manufacturer defects.
Yes, we offer full and partial refunds.

Please enquire for more information about our Refund policy.
We asked, you answered. Notable feedback from our customers
As a hiker and traveler, their bags are the perfect combo.
Been buying their products for years and they're all top notch.
Quality products with a unique design. I can't recommend enough.
I wear their apparel hiking, kayaking and bicycling, and I'm always super comfy in all activities.
The materials used are second to none! Long-lasting and high quality. what more can you ask for?
Amazing customer service. You can tell that they really care about their customers and their whole company.
Free Returns
within 30 days of purchase