Jura GIGA 6 Aluminum (NAA)
Item is in stock
Hurry! Low inventory
Item is out of stock
Item is unavailable
Jura GIGA 6 Aluminum 15396
Double power and double action for 28 specialities
The secret to creating a perfect cup of coffee lies in creating ideal extraction conditions and to make trend specialities, it is vital you use the best ingredients. That's why the new GIGA 6 has mastered the art of heating and frothing milk perfectly as well as three different coffee brewing processes that come into their own when preparing various trend specialities. The machine's inner workings have been overhauled to provide the combined power of two heating systems and two pumps, enabling coffee and milk or coffee and milk foam to be prepared at the same time. This has opened up a whole range of new possibilities for coffee lovers, including popular mixed drinks such as caffè latte, flat white or cortado. JURA's new pride and joy can even prepare two specialities simultaneously if desired. Milk and milk foam can be tailored exactly to your individual taste and programmed in 10 temperature levels.
2 electronically adjustable ceramic disc grinders
The two electronically adjustable ceramic disc grinders are preci­sionmade using an incredibly hard material so that they can grind the coffee to the optimum fineness. The Automatic Grinder Adjustment (A.G.A.) delivers phenomenal results every time over the grinder's entire service life. There are two self-adjusting grinders so that two different coffee varieties can be used, either individually or mixed together. The mix of coffee can be selected in increments of 25 % (for instance, 100 % left, 75 % left / 25 % right, 50 % left / 50 % right, and so on) to ensure you can always select the perfect blend for your taste.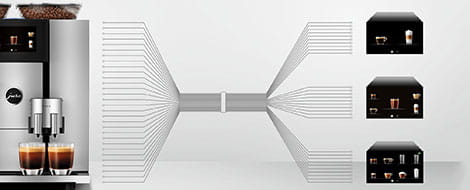 Artificial intelligence
With the GIGA 6, artificial intelligence is finding its way into the opera­tion of the machine. The 4.3" high-resolution touchscreen colour display only shows the user relevant information. A self-learning algorithm identifies each user's personal preferences and adapts the start screen accordingly, showing two, five or eight preferred specialities. Images and symbols are self-explanatory, well thought­out and reduced  to the absolute essentials. You can give specialities ­specific names which can then be shown or hidden.
5-star handling
The JURA engineers paid special attention to the redesign of the drip tray. The dishwasher-safe drip tray can easily be removed, emptied and reinserted with just one hand. The centre of gravity is ideally located to prevent any spillages. Simple, clean, quick, convenient – this 5-star concept is incorporated down to the very last detail.
Frequently Asked Questions
Domestic shipping can take up to 5 business days.

Foreign shipping could take up to 14 business days.

Due to global supply chain challenges, shipping times could be longer than usual.

All our products are subject to quality control.

Our warranty provides a guarantee against manufacturer defects.

The guarantee covers any manufacturing, design, or material defect. Please notify us within 2 months of noticing any defects.

It does not cover blows, improper use, or other issues that are not attributable to a manufacturer defects.
Yes, we offer full and partial refunds.

Please enquire for more information about our Refund policy.
We asked, you answered. Notable feedback from our customers
As a hiker and traveler, their bags are the perfect combo.
Been buying their products for years and they're all top notch.
Quality products with a unique design. I can't recommend enough.
I wear their apparel hiking, kayaking and bicycling, and I'm always super comfy in all activities.
The materials used are second to none! Long-lasting and high quality. what more can you ask for?
Amazing customer service. You can tell that they really care about their customers and their whole company.
Free Returns
within 30 days of purchase