Jura ENA 8 Metropolitan Black/ Full Nordic White
Item is in stock
Hurry! Low inventory
Item is out of stock
Item is unavailable
Jura ENA 8 
Metropolitan Black 15281
Full Nordic White  15451
small, stunning, simple - freshly ground, not capsuled
The superlative new one-cup machine: small, stunning, simple – a must for all coffee lovers and connoisseurs. The ENA 8 impresses with coffee specialties that are freshly ground, not capsuled. And thanks to the variety it offers at the touch of a button, it is sure to delight even the most discerning palates. Winding arterial roads pulsate as they cut their way between apartment blocks.
The hustle and bustle of city life. Cafés, boutiques. Countless neon signs illuminating the night sky. The artificial glow of office lighting. Light and shade. Light and dark. Black and white. This is the world of international metropolises and the color world of the ENA 8 in Metropolitan Black.
The vast expanse of land. Mountains and hills. Snow envelops everything in a soft, white blanket, making colors disappear. The trace of a shadow calls to mind a topography. Far away, perhaps, the expanse of the sea. This is the world of complete purity, clarity and texture and the color world of the ENA 8 in Full Nordic White.
---
Small
Only 10.7" wide, 12.7" high and 17.5" deep – this one- cup machine will comfortably fit anywhere. 
---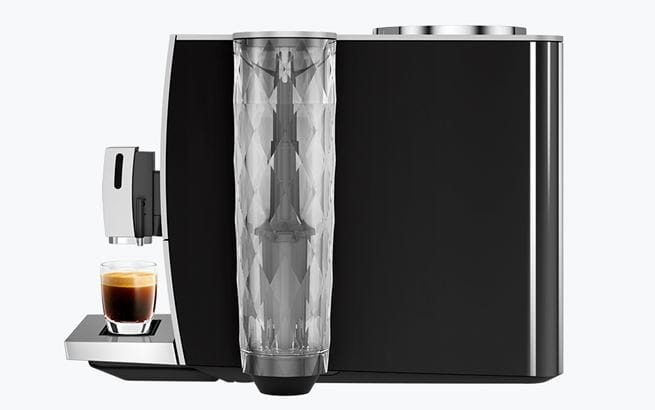 Stunning
A particular highlight of the design is the round water tank. Its pattern combined with its cylindrical shape is inspired by premium crystal carafes.
---
Simple
The front 2.8" TFT color display and the clearly defined operating panels make it extremely easy to use. 
---
Freshly ground, not capsuled
Ten different specialties are available at the touch of a button. The first VC compact brewing unit ensures that the coffee always flows into the cup under ideal conditions. The Pulse Extraction Process (P.E.P.®) optimizes the aroma of a short ristretto or espresso. Fine foam technology creates airy, feather-light milk foam for cappuccino or other specialties.
---
Products
Ristretto
Espresso
Coffee
Cappuccino
Espresso doppio
Macchiato
Latte macchiato
Flat white
Portion of milk foam
Hot water
Number of products 10
---
JURA standards
Pulse Extraction Process (P.E.P.®)
Variable VC compact brewing unit 6 - 10 g
Intelligent Pre-Brew Aroma System (I.P.B.A.S.©)
Multi-level AromaG3 grinder
High-performance pump, 15 bar
Thermoblock heating system
JURA fine foam technology
Milk system HP1
Maintenance status display
Integrated rinsing, cleaning and descaling programme
Integrated milk system rinsing and cleaning programme
JURA hygiene: TÜV-certified
Filter cartridge CLEARYL Smart 72629 (60 liters) or CLEARYL Smart mini 25032 (30 liters)
Energy Save Mode (E.S.M.©)
Zero-Energy Switch or power switch
---
Settings and programming options
Programmable and individually adjustable amount of water
Programmable and individually adjustable coffee strength - 10 levels
Programmable brewing temperature - 3 levels
Programmable temperature of hot water - 3 levels
Programmable switch-off time
---
Design and materials
TFT color display
Amber / white cup illumination
Powder chute for ground coffee
---
In figures
Height-adjustable dual spout 2.2 - 5.4 inches
Height-adjustable coffee spout 2.2 - 5.4 inches
Height-adjustable cappuccino spout 2.2 - 5.4 inches
Height-adjustable hot water spout 2.2 - 5.4 inches
Water tank capacity 36.8 oz
Bean container holding capacity 4.4 oz
Coffee grounds container (max. servings) 10
Cable length 3.6 feet
Voltage / Power 120 V ~ / 1450W
10 amp
Stand-by power 0 Watt
Weight 20.7 lbs
Width 10.7 inches
Height 12.7 inches
Depth 17.5 inches
Frequently Asked Questions
Domestic shipping can take up to 5 business days.

Foreign shipping could take up to 14 business days.

Due to global supply chain challenges, shipping times could be longer than usual.

All our products are subject to quality control.

Our warranty provides a guarantee against manufacturer defects.

The guarantee covers any manufacturing, design, or material defect. Please notify us within 2 months of noticing any defects.

It does not cover blows, improper use, or other issues that are not attributable to a manufacturer defects.
Yes, we offer full and partial refunds.

Please enquire for more information about our Refund policy.
Free Returns
within 30 days of purchase