Jura Z10 Aluminum White / Diamond Black
Item is in stock
Hurry! Low inventory
Item is out of stock
Item is unavailable
Jura Z10 
As Jura Authorized Dealers since 2004, we are proud to offer the latest Jura Z10. It comes with a JURA USA 2 year Limited Warranty.
The brand new Jura Z10 with P.R.G. is the first automatic coffee machine to make both hot and cold brew coffees and espresso drinks.
Filled with Swiss engineering, the new Z10 has a range of 32 programmable speciality coffees. At the touch of a button it prepares almost every hot coffee drink you can dream of, from intense espresso, cortado and Americano, to macchiato and flat white. But its most unique feature is the ability to make cold brew versions of the same drinks. Even in less time than it takes to find your car keys. This is thanks to the Product Recognizing Grinder (P.R.G.), which recognizes the chosen drink and instantly and precisely adjusts the fineness of grind accordingly.
The new Product Recognising Grinder (P.R.G.)
To ensure the optimum grind for every speciality drink, JURA engineers developed the Product Recognizing Grinder (P.R.G.). The electronically controlled high-performance grinder adjusts in a fraction of a second to the predefined consistency of grind – much more quickly and frequently than could be done manually. Its capability ranges from very fine for short classic drinks to very coarse for long specialities. But coffee lovers don't need to worry at all, because the adjustment takes place automatically every time a beverage is prepared and, if preferred, can also be individually selected before each preparation with the Aroma Selection feature.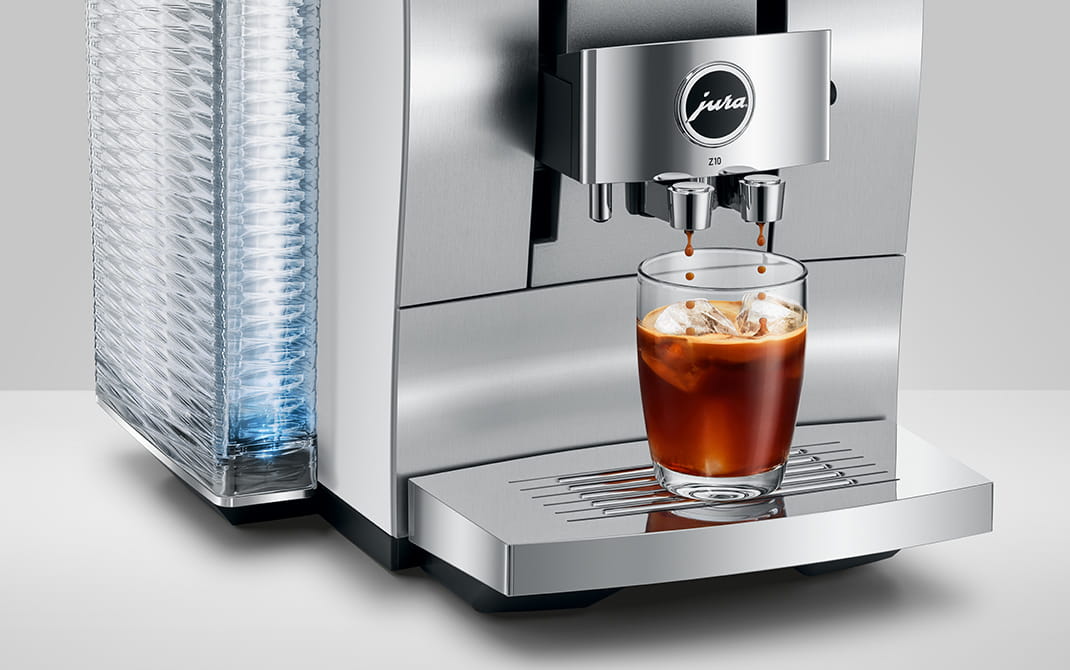 Cold brew – extreme freshness
Thanks to the Cold Extraction Process, the Z10 prepares genuine cold brew specialities. While many conventional cold coffee drinks consist mostly of hot-brewed coffee which is then chilled, in the Z10 extraction takes place with cold water, pulsed at high pressure, and more coarsely ground coffee. The end result is a natural, energising and refreshing beverage in which the fruity aromas of the coffee can be fully enjoyed without being overwhelmed by bitters. Anything else would just be a cold coffee.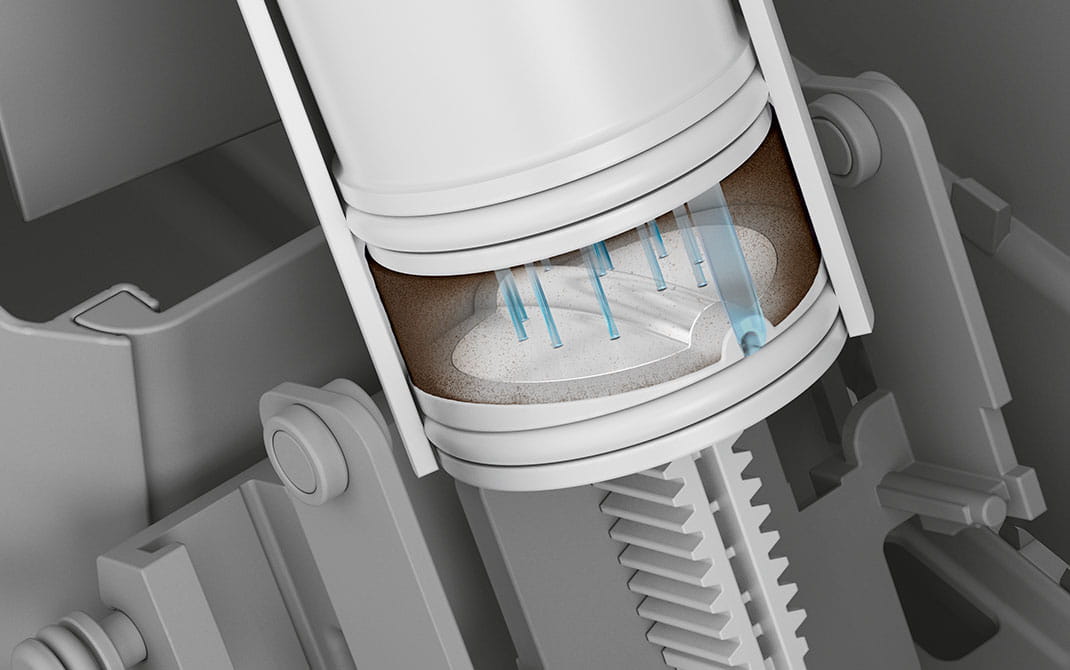 Eighth-generation brewing unit
The brewing unit is the most important part of any automatic coffee machine. For the Z10, JURA has created the eighth-generation brewing unit. With its unique 3D brewing technology, it allows the water to flow evenly through the ground coffee at multiple levels. This makes the most of the aroma, both in hot specialities and with cold brewing. 
Lasting elegance
Design and the careful choice of materials play an important role in product durability. JURA always strives to achieve a design that people will be proud to own and that will still look fresh and modern after many years of service. Uncompromising Swiss quality, durable, high-quality materials, and maximum engineering precision, guarantee both culinary and aesthetic excellence for the entire lifetime of the machine. The complex convex-concave solid aluminum front panel demonstrates the very highest standard of craftsmanship. The water tank with its elegant wave design and the harmonious filter casing show the attention paid to what might seem like small details. As soon as you touch the Z10, you sense what true worth means in a JURA.
Frequently Asked Questions
Domestic shipping can take up to 5 business days.

Foreign shipping could take up to 14 business days.

Due to global supply chain challenges, shipping times could be longer than usual.

All our products are subject to quality control.

Our warranty provides a guarantee against manufacturer defects.

The guarantee covers any manufacturing, design, or material defect. Please notify us within 2 months of noticing any defects.

It does not cover blows, improper use, or other issues that are not attributable to a manufacturer defects.
Yes, we offer full and partial refunds.

Please enquire for more information about our Refund policy.
We asked, you answered. Notable feedback from our customers
As a hiker and traveler, their bags are the perfect combo.
Been buying their products for years and they're all top notch.
Quality products with a unique design. I can't recommend enough.
I wear their apparel hiking, kayaking and bicycling, and I'm always super comfy in all activities.
The materials used are second to none! Long-lasting and high quality. what more can you ask for?
Amazing customer service. You can tell that they really care about their customers and their whole company.
Free Returns
within 30 days of purchase