Jura E6 Piano Black - 15622 - Latest 2023 Version
Item is in stock
Hurry! Low inventory
Item is out of stock
Item is unavailable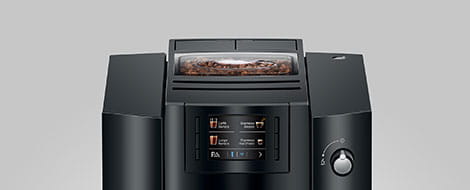 Professional Aroma Grinder
12.2%* more aroma and consistently high grind quality over the entire service life are the defining features of the Professional Aroma Grinder. The perfected grinder geometry achieves the optimum grinding curve. So: A higher proportion of fine particles in the grounds guarantees that the flavors unfold to perfection.
*Professional Aroma Grinder compared with conventional grinders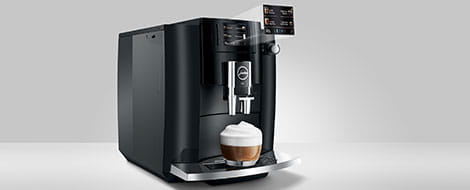 Even more specialities for even more enjoyment
The new E6 perfectly combines variety with outstanding aesthetic appeal. Alongside coffee classics and speciality coffees finished with milk foam, the E6 now also boasts: caffè Barista, lungo Barista, espresso doppio and macchiato.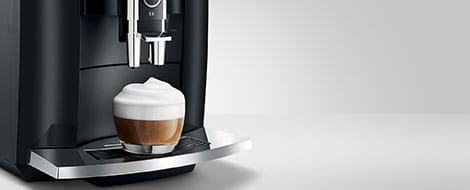 More beautiful than ever
The premium, chrome-plated cup grille serves as the perfect stage to showcase each and every speciality.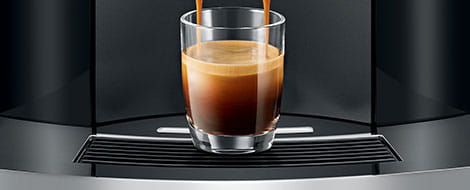 P.E.P.® for espressi of outstanding barista quality
The Pulse Extraction Process (P.E.P.®) optimizes the extraction time and guarantees the very best aroma even for short speciality coffees.
Updated features & benefits for 2023
TFT color display for intuitive operation
Fine Foam Frother G3 with innovative fine foam technology delivers professional quality milk foam
Professional Aroma Grinder guarantees ideal grinding results over the entire service life
The Specialty Selection expands the preparation options available for 11 specialties, including extra shot cappuccino for intense flavor and aroma, or optional preground
5-16 gram brewing chamber plus eighth-generation brewing unit with 3D brewing technology
Unique 3D brewing technology, allows water to flow evenly through the ground coffee at multiple levels
Ultimate coffee quality thanks to Pulse Extraction Process (P.E.P.®)
Intelligent Water System (I.W.S.®) with RFID technology automatically detects the CLEARYL Smart water filter
Separate hot water spout for preparing tea, Caffe Barista or Lungo Barista
The optimized fluid system offers automatic milk system cleaning with included container
Compatible with WiFi Connect for use with J.O.E.® (JURA Operating Experience) app
WiFi Connect is NOT included with the purchase of E6
E6 Beverage Reference
Espresso / 2 x Espresso A full-flavored, concentrated form of coffee served in "shots" (usually 1.5 - 2 oz)
Coffee / 2 x Coffee A long pressure brewed extraction (usually 4 - 6 oz)
Caffè Barista Coffee with added water, not passing through the grounds (usually 5 oz)
Americano A long coffee with added water, not passing through the grounds (usually 7.5 oz)
Macchiato Espresso with a dollop of milk foam
Cappuccino Milk foam infused with coffee
Cappuccino Extra Shot Milk foam infused with two espressos with two times grinding and two times brewing for extra strong aroma in one cup
Portion milk foam Hot milk mixed with air to create a frothy texture
Pulse Extraction Process (P.E.P.®)
Variable brewing unit : 5 - 16 g
Grinder : Professional Aroma Grinder
High-performance pump, 15 bar - 1
Thermoblock heating system - 1
Fluid systems - 1
Milk system / interchangeable milk spout - HP1 / CX3
Aroma preservation cover
Compatible with J.O.E.®
Display - 2.8" colour display
Programmable and individually adjustable amount of water
Programmable and individually adjustable coffee strength - 8 levels
Programmable amount of milk / milk foam
Programmable brewing temperature - 2 levels
Programmable temperature of hot water - 3 levels
Intelligent Water System (I.W.S.)
Filter cartridge - CLEARYL Smart
Integrated rinsing, cleaning and descaling programme
Monitored drip tray
JURA hygiene: TÜV-certified
Energy Save Mode (E.S.M.©)
Zero-Energy Switch or power switch
Programmable switch-off time
| | |
| --- | --- |
| Height-adjustable/width-adjustable coffee spout | 65 – 111 mm / – |
| Height-adjustable hot-water spout | 65 – 111 mm |
| Water tank capacity | 1.9 l |
| Bean container holding capacity | 280 g |
| Coffee grounds container (approx. servings) | 16 |
| Cable length | 1.1 m |
| Voltage / power | 120 V / 1450 W |
| Current | 10 A |
| Stand-by power | 0 W |
| Weight | 9.8 kg |
| Dimensions (W × H × D) | 28 × 34.6 × 44.4 cm |
| Article number, product code | 15622, Piano Black (NAC) |
| Country of production | Made in Portugal |
| Model year | 2020 |
Frequently Asked Questions
Domestic shipping can take up to 5 business days.

Foreign shipping could take up to 14 business days.

Due to global supply chain challenges, shipping times could be longer than usual.

All our products are subject to quality control.

Our warranty provides a guarantee against manufacturer defects.

The guarantee covers any manufacturing, design, or material defect. Please notify us within 2 months of noticing any defects.

It does not cover blows, improper use, or other issues that are not attributable to a manufacturer defects.
Yes, we offer full and partial refunds.

Please enquire for more information about our Refund policy.
Free Returns
within 30 days of purchase