The Jura E4 is especially suitable for making perfect espresso and black coffee (including Americano).
The very best coffee is made from fresh ground beans and water that is filtered and optimized for brewing by the CLEARYL Smart+ filter. The granules inside constantly filters calcium carbonate to an optimum level (even when the water hardness is low) and reduces the level of harmful and flavour-impairing substances, such as chlorine. And it retains the important minerals, which help to carry the flavor.
The Jura Professional Aroma Grinder, the eighth-generation brewing unit, and the 3D brewing process all help to create a full-bodied aroma. The intuitive symbol display allows the user to select the required option with just one touch.
The functions also include hot water preparation. The Jura E4 has those minimalist lines that emphasize its premium quality.
Very easy to use
Maximum flavor, minimum complexity. Preselection functions allow the user to define their own personal aroma preferences, so one touch of a button is all it takes to prepare the perfect cup of coffee. It couldn't be easier.
Freshly ground, not capsuled
The defining features of the Professional Aroma Grinder include 12.2%* more aroma and consistently high grind quality over its entire service life. Combined with the eighth-generation brewing unit and the 3D brewing process, the result in the cup is truly sublime coffee. The E4 prepares double products in two cycles. This results in maximum aroma, because the user can take advantage of the variable brewing unit's full range of 5 to 16 grams of ground coffee for both cups.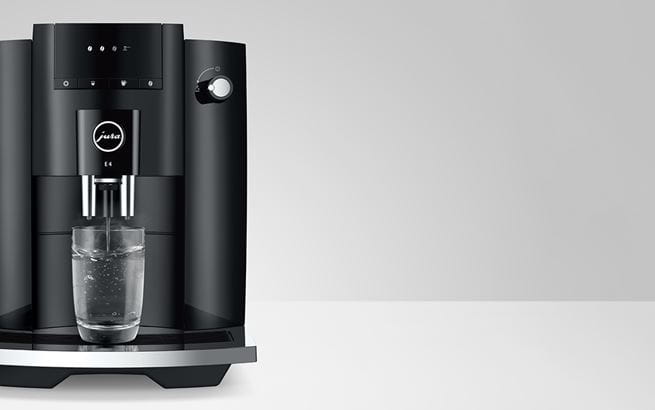 Hot water in no time
Want an Americano? Just add water to those perfect espresso shots. If you'd like a cup of tea for a change, no problem. Simply turn the switch to start hot water preparation and up to 10 oz of hot water will flow into the cup in no time at all.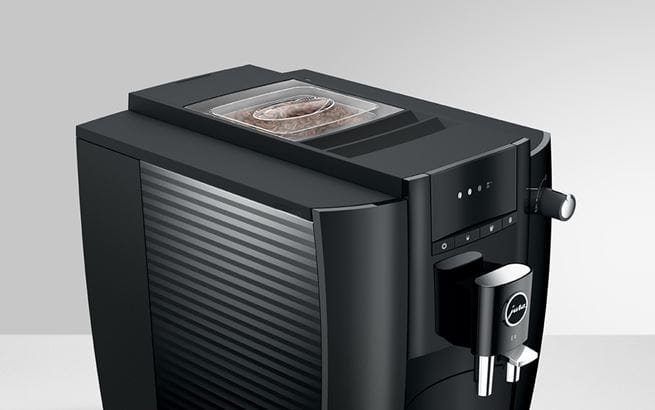 Harmonious design
The E4 reflects the characteristic design of JURA coffee machines, with clean lines and surfaces. Crafted with maximum precision, the minimalist lines emphasize the premium quality of the machine. The use of colors follows the same minimalist approach. While the complete body of the machine is in understated Piano Black, chrome-plated details add acc