Jura E6 Piano White - 15559 - Latest 2023 Version
Item is in stock
Hurry! Low inventory
Item is out of stock
Item is unavailable
I

N STOCK, FAST FREE SHIPPING!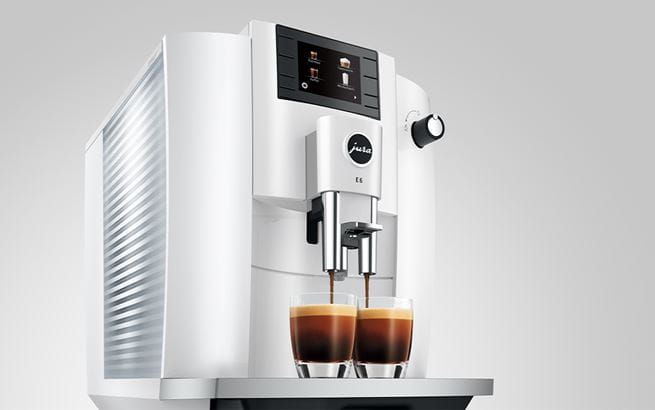 Even more aroma for even more enjoyment
The Professional Aroma Grinder helps to create the perfect coffee that is second to none. Thanks to perfected grinder geometry, the quality of the grind is more consistent, and this performance is maintained over its entire service life. This optimizes aroma extraction and achieves an aroma increase of 12.2% compared to conventional grinders. Discover completely new sides to your favorite coffee specialty.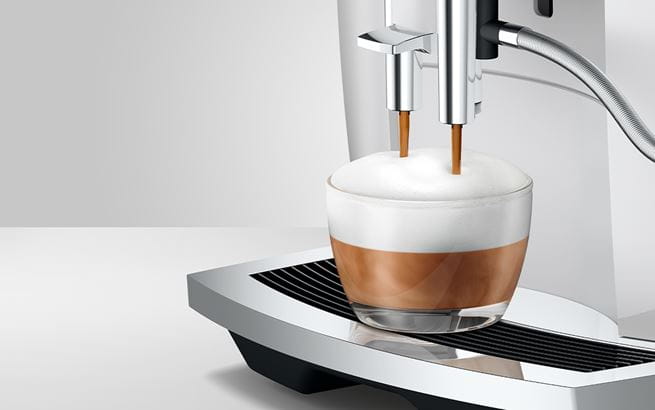 Cappuccino made to perfection
With the proven Easy Cappuccino function, you can enjoy superb cappuccini at the touch of a button. The milk nozzle, which was specially developed for cappuccini, ensures uniquely soft, fine milk foam that perfectly complements the coffee and promises true perfection. The ultimate solution for cappuccino lovers.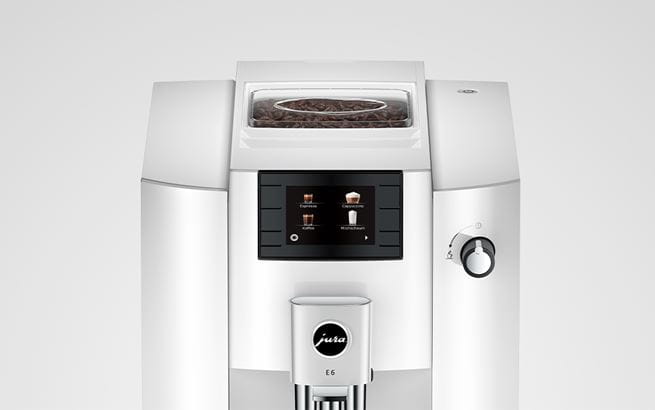 Perfection made easy
The clearly presented 2.8" color display, six ideally placed buttons and an intuitive operating concept enable convenient operation of the E6, whether you want simple coffee preparation, to set individual preferences or use the self-explanatory cleaning functions. The E6 is also compatible with J.O.E.®, which allows you to prepare specialty coffees, set and store personal preferences and easily send your guests' coffee orders directly to the coffee machine from your smartphone.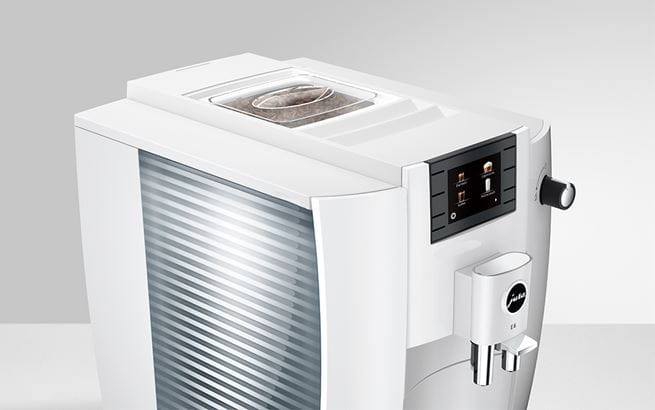 Sustainable design
With its quiet elegance, the design of the E6 reflects the unique technology hidden behind its timeless exterior. The linear geometry with sophisticated chrome accents ensures a distinct visual that focuses uncompromisingly on first-class coffee and blends harmoniously into any décor. Both in terms of the selection of specialties and its design, the E6 purposely avoids any excess that could distract from its true essence: The perfect cup of coffee.
VERSATILITY: Automatic coffee machine grinds, tamps, brews, froths and self-cleans in less than 60 seconds
OPERATION: Intuitive, user-friendly color display, integrated maintenance programs and optional preground chute
CUSTOMIZATION: Programmable coffee strength, volume, temperature, amount of milk foam and hot water on demand
GRINDER: Professional Aroma Grinder grinds 12.2% more aroma in the cup using fresh, whole beans; eco-friendly
TECHNOLOGY: Pulse Extraction Process for professional-quality espresso, eighth-generation brew unit with 3D brewing technology
TFT color display for intuitive operation
Fine Foam Frother G3 with innovative fine foam technology delivers professional quality milk foam
Professional Aroma Grinder guarantees ideal grinding results over the entire service life
The Specialty Selection expands the preparation options available for 11 specialties, including extra shot cappuccino for intense flavor and aroma, or optional preground
5-16 gram brewing chamber plus eighth-generation brewing unit with 3D brewing technology
Unique 3D brewing technology, allows water to flow evenly through the ground coffee at multiple levels
Ultimate coffee quality thanks to Pulse Extraction Process (P.E.P.®)
Intelligent Water System (I.W.S.®) with RFID technology automatically detects the CLEARYL Smart water filter
Separate hot water spout for preparing tea, Caffe Barista or Lungo Barista
The optimized fluid system offers automatic milk system cleaning with included container
Compatible with WiFi Connect for use with J.O.E.® (JURA Operating Experience) app
E6 Beverage Reference
Espresso / 2 x Espresso A full-flavored, concentrated form of coffee served in "shots" (usually 1.5 - 2 oz)
Coffee / 2 x Coffee A long pressure brewed extraction (usually 4 - 6 oz)
Caffè Barista Coffee with added water, not passing through the grounds (usually 5 oz)
Americano A long coffee with added water, not passing through the grounds (usually 7.5 oz)
Macchiato Espresso with a dollop of milk foam
Cappuccino Milk foam infused with coffee
Cappuccino Extra Shot Milk foam infused with two espressos with two times grinding and two times brewing for extra strong aroma in one cup
Portion milk foam Hot milk mixed with air to create a frothy texture


SPECIFICATIONS

Model Number

15559

Color

Piano White

Grinders

1

Display

Color display

Individually Programmed Specialities

8

Programmable Coffee Strength Levels

10

Brewing Chamber Capacity (g)

5-16

Powder Chute for Ground Coffee

Yes

Milk Frothing System

HP1

WiFi Connect

Compatible 

Wattage

1450

Warranty

2 Year Limited

DIMENSIONS

Height (in)

13.8

Width (in)

11

Depth (in)

17.6

Weight (lbs)

21
Frequently Asked Questions
Domestic shipping can take up to 5 business days.

Foreign shipping could take up to 14 business days.

Due to global supply chain challenges, shipping times could be longer than usual.

All our products are subject to quality control.

Our warranty provides a guarantee against manufacturer defects.

The guarantee covers any manufacturing, design, or material defect. Please notify us within 2 months of noticing any defects.

It does not cover blows, improper use, or other issues that are not attributable to a manufacturer defects.
Yes, we offer full and partial refunds.

Please enquire for more information about our Refund policy.
Free Returns
within 30 days of purchase